Great Green Gifts – 9 Fresh Eco-Friendly Corporate Gift Ideas for Holiday 2021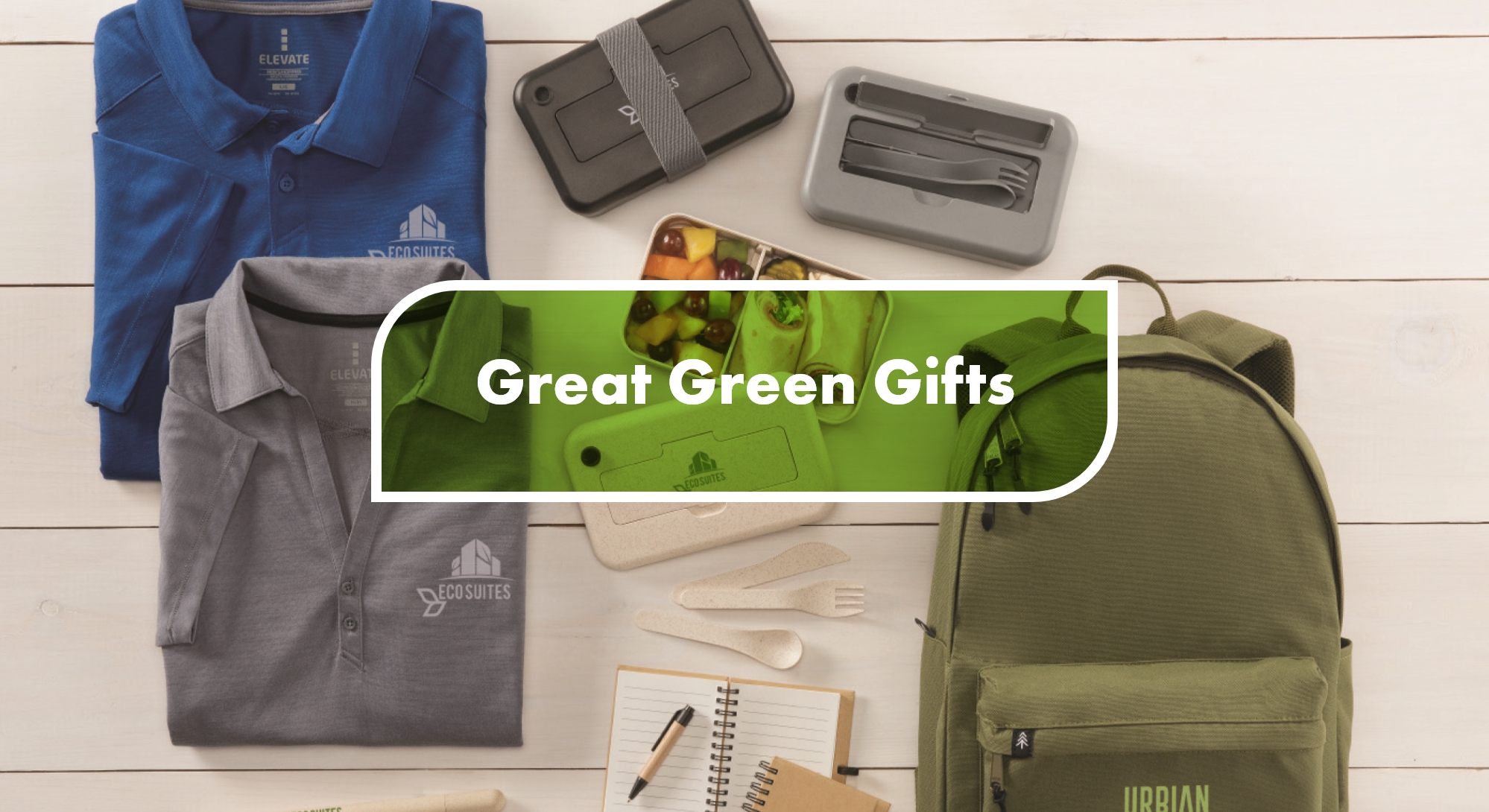 published: August 30, 2021
With over 80% of consumers looking to patronize businesses that make the environment a cornerstone of company values, sustainability is clearly more than a trend. That's why more and more businesses are responding to these demands by going green. As your company or school continues to adopt eco-friendly practices in the workplace, you'll be looking for innovative ideas to ensure your brand is a leader in the movement for a greener planet.
One way to incorporate sustainability into the workplace is with environmentally friendly corporate gifts for customers, clients, and employees. Eco-friendly corporate gifts are a great way to say thank you during the holidays or any time of year while giving back to a planet in need.
But what gifts work best for your audience, and what makes a gift eco-friendly? Get inspired with our nine freshest and greenest ideas to help you choose.
1. Send Out Easy to Mail Eco-Friendly
Gifts
If your staff is fully or partially remote, or you have clients and customers dispersed across the country, make gifting easier with items that are easy to mail. You can also reduce your company's impact on the environment by burning fewer fossil fuels with green promotional gifts that are small and lightweight. A bonus is that these gifts tend to be less expensive, so they're an excellent strategy for stretching your holiday budget.
Gift cards are a staple of any holiday giveaway, but you can take it to the next level by tucking one inside a unique ornament like a Holiday Stocking Ornament or a Scented Holiday Ornaments – two cute and thoughtful ways to send holiday greetings in the mail.
Amp up the impact by choosing recycled corporate gifts that are also flat and mail friendly like the Eco-KOOZIE® Can Cooler or an Eco-Friendly Pen & Journal Set.
Employees and clients will be thinking of you when they receive a Bamboo Media Stand or a Bamboo and White Marble Coaster Set in the mail for their home office. Created from renewable bamboo, these green holiday gift ideas will shine on a desk or table.
Don't stress about packaging. Sustainable Christmas gifts – both small and large – can be mailed out in Cornstarch Mailer Bags personalized with your holiday message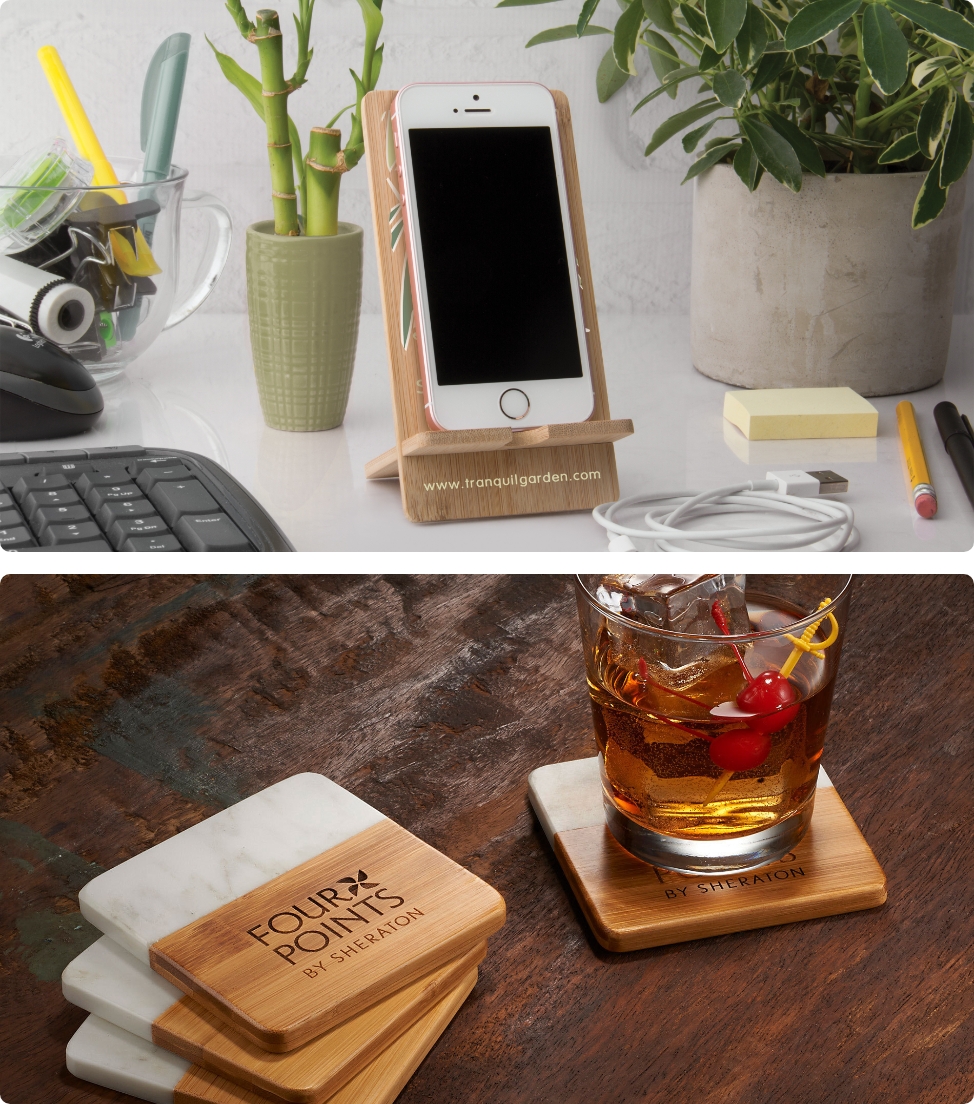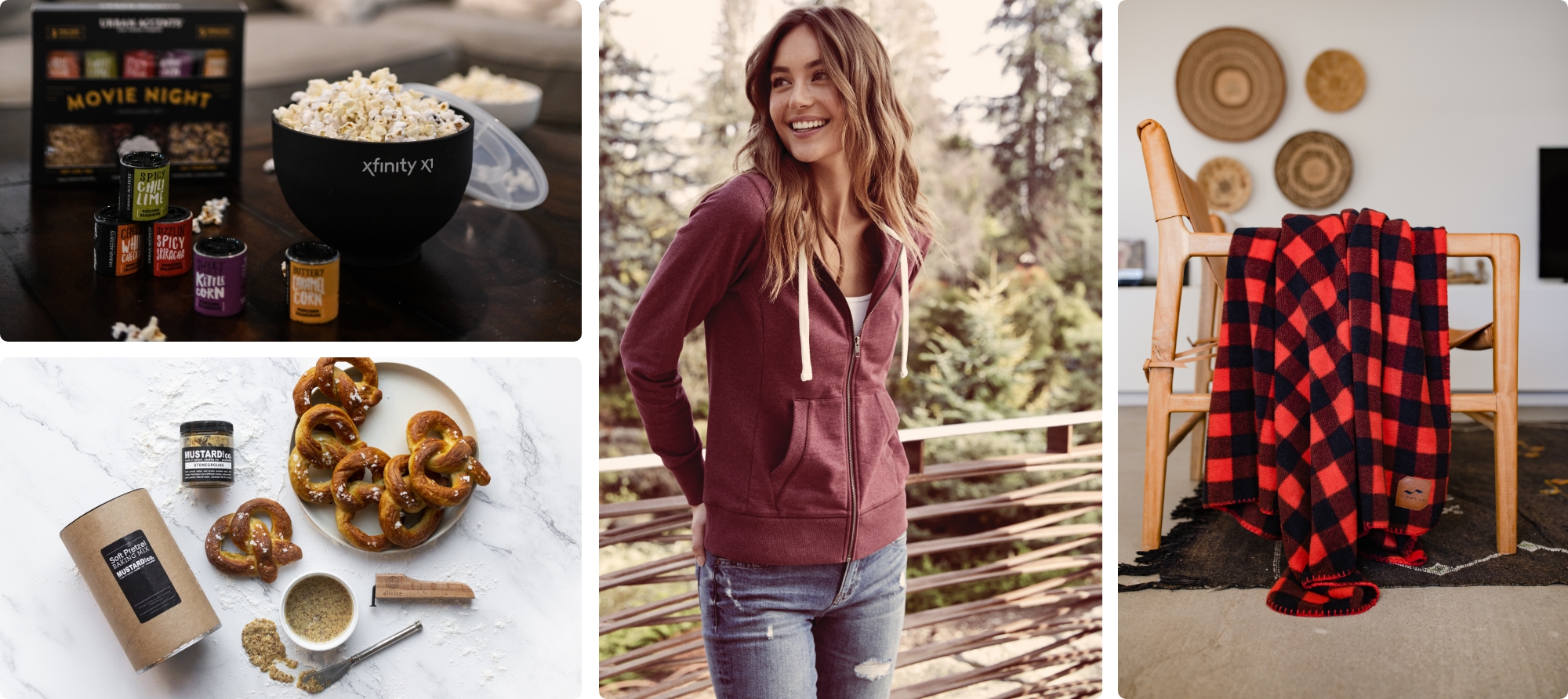 2. Reduce Waste with Food Gifts
Looking for eco-friendly gifts that won't be wasted during the holidays? Branded snacks and treats sit at the top of the list! Once these sweet and salty treats are gobbled up, they're completely gone and won't be left behind to pile up at local landfills.
One way to get more mileage out of your food gifts is to send them out in a reusable bag. The RuMe® Choco-Love does just that since the savory items come in a reusable pouch that is great for items like tech accessories and cosmetics when the food is gone.
Reward employees with tasty gifts that will make them smile like the Happy Holidays Treat Box and the Batch & Bodega Twist & Salt, or encourage them to stay in for a movie night with the Movie Night Gourmet Popcorn Gift Set.
3. Choose Recycled Corporate Gift Items
Businesses that promote environmental responsibility and schools that teach about sustainability can benefit from green promotional gifts that increase the life cycle of a product while reducing waste. After all, one person's trash is another one's treasure.
Ensure old products don't go to waste with eco-friendly gifts for employees that will keep them warm during the holidays like District® Re-Fleece™ Full-Zip Hoodies made from 60% recycled cotton and 40% post-consumer recycled polyester. Or, keep them cozy when they get home from the office with the Slowtide® Fleece Blanket designed completely from recycled post-consumer waste.
Eco friendly gifts for students – like the Recycled Bonded Leather Hardcover Notebook – are a great way to recognize hard work and dedication after a difficult semester. Pair these notebooks with an Osprey® Arcane Roll Top Pack to get them excited about coming back in the spring.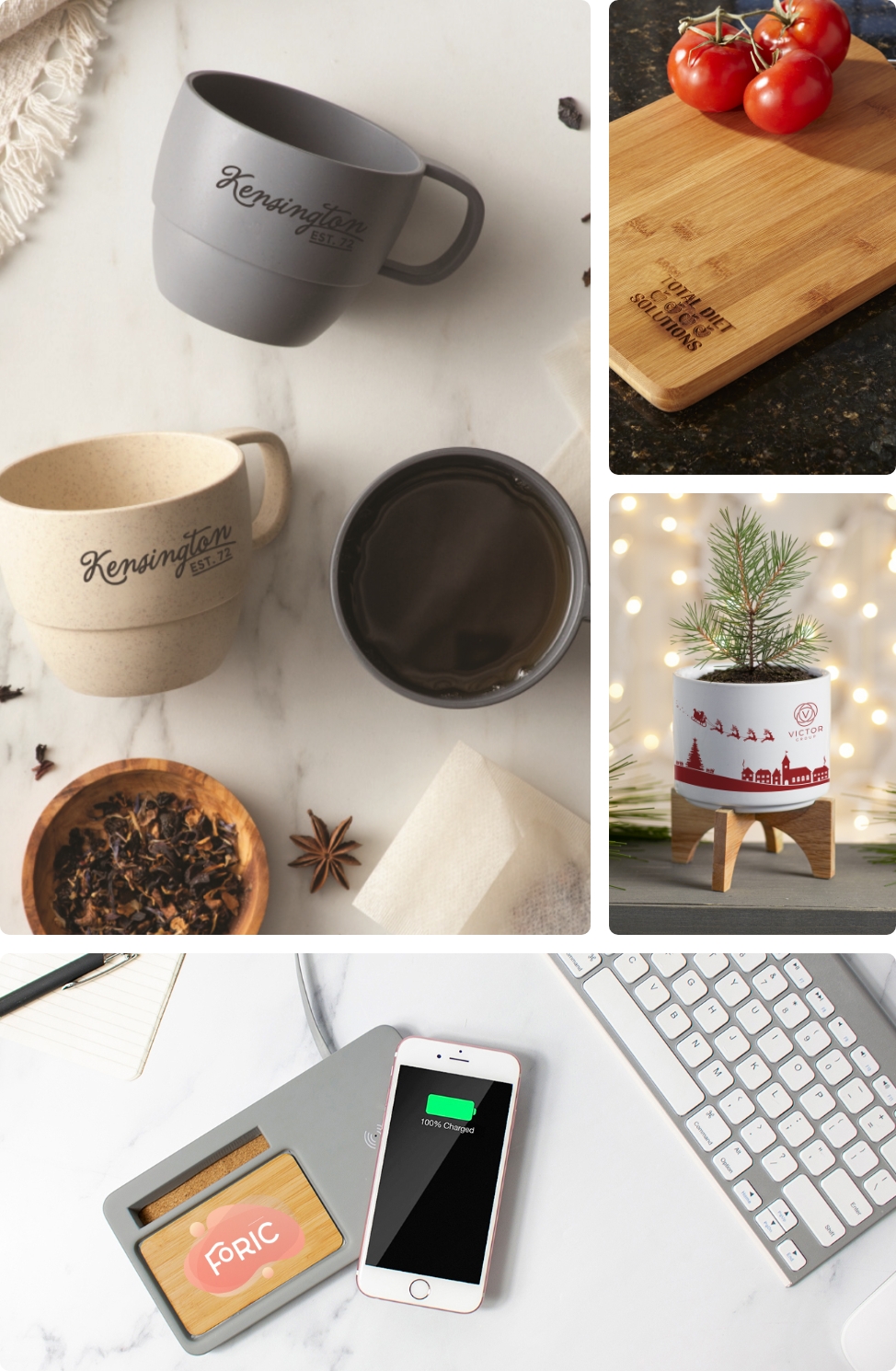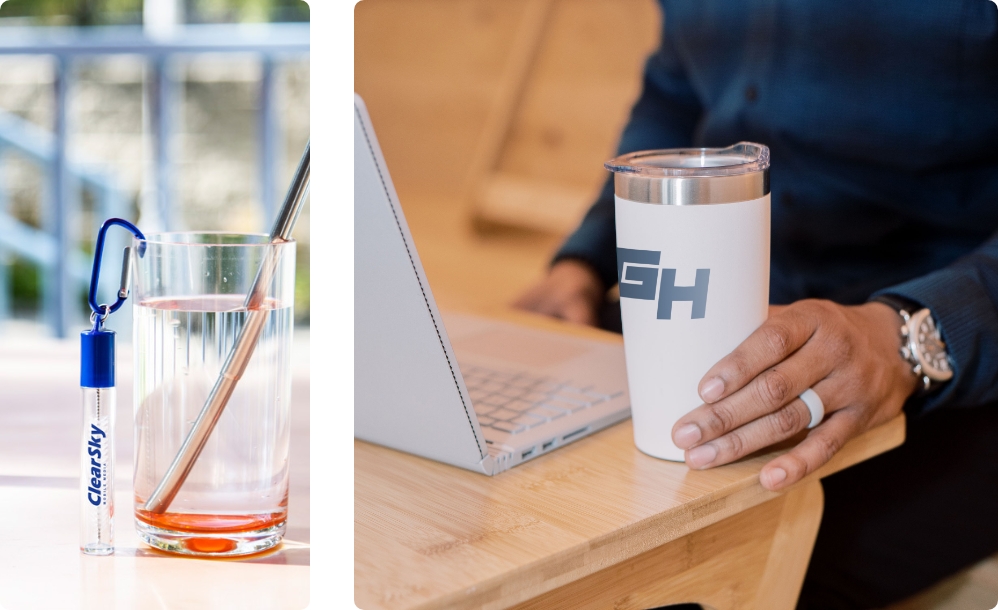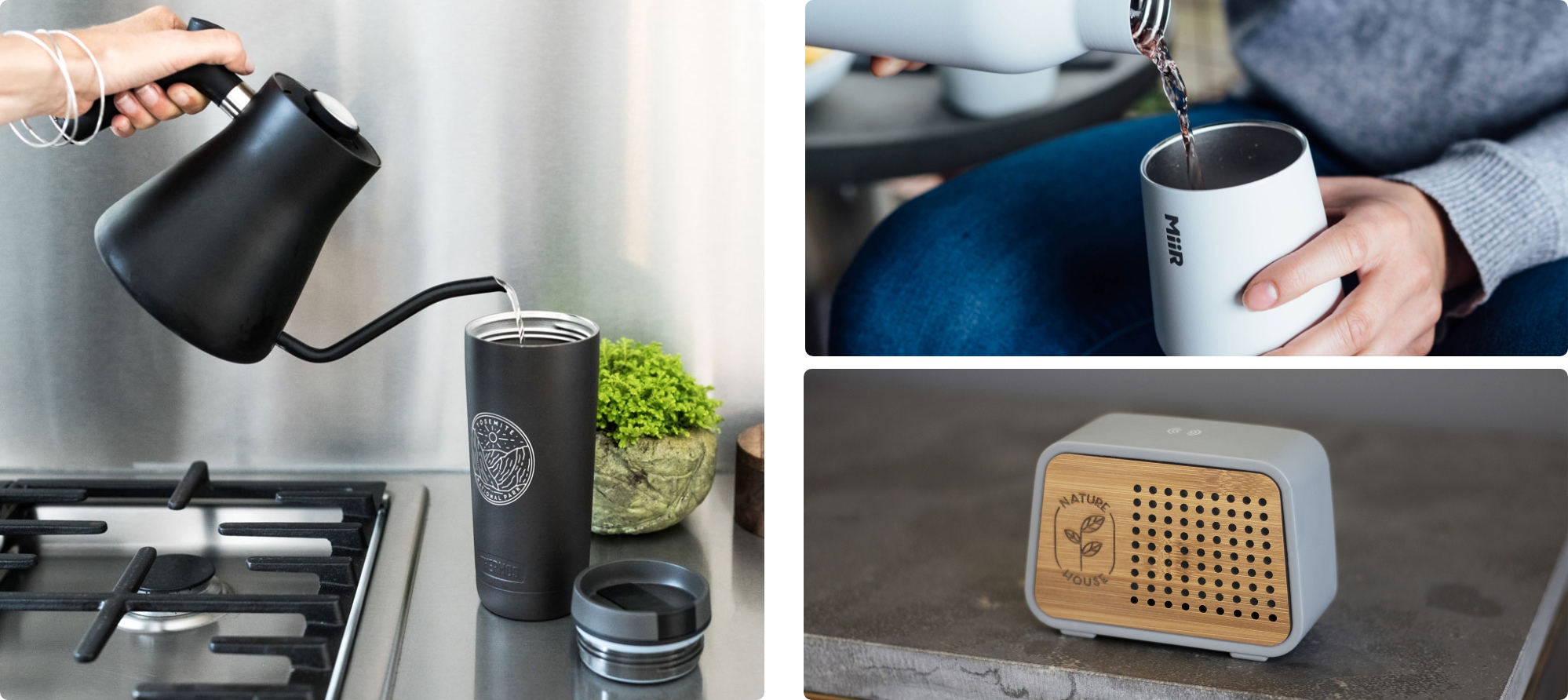 8. Give Back to the Environment with
Meaningful Gifts for Employees
Giving sustainable promotional gifts isn't just about what those gifts are made of. It's also about what the people who make those gifts are made of. Many companies that offer impressive corporate gifts also give portions of the proceeds to environmental causes. You can shape your marketing campaigns or employee appreciation programs in a meaningful and socially responsible way with corporate gifts that give back.
Meaningful gifts for employees like the Temblor™ Speaker + Wireless Charger and the Modern Sprout® One For One Tree Kits are a great way to reward hard work and build morale while helping the environment since trees are planted with every purchase.
Support the planet with the Field & Co. 100% Recycled PET Sherpa Blanket – a blanket that features an eco-friendly take on a classic look and style. On top of that, one percent of the revenue is donated to an organization that protects the Earth through a partnership with 1% For the Planet.
Encourage eco-friendliness while giving back with the 10 oz Miir® Vacuum Insulated Wine Tumbler. With these Miir tumblers, 3% of the revenue is given to trackable projects that allow you and your recipients to follow the story behind each purchase.
9. Decorate Eco-Friendly Gifts with Green
Sayings & Slogans
Messaging goes a long way when it comes to sustainability, so liven up your gifts with inspiration phrases. Make sure the items you print on practice what they preach with eco-friendly selections.
"Say no to Single Use"
Straws don't have to go to waste with reusable options like this Bottle Opener with Straw Kit.
"May the Forest be With You"
An appealing journal with organic paper made from ground apple peels, the Apple Peel Journal is the perfect giveaway for businesses striving for sustainability.
Check out other green sayings and slogans for more eco-friendly inspiration.
Geiger is committed to environmental corporate responsibility, and offering eco-friendly promotional products is only a small part of it. It sure is a fun part though, so from our business to yours, happy green gifting!